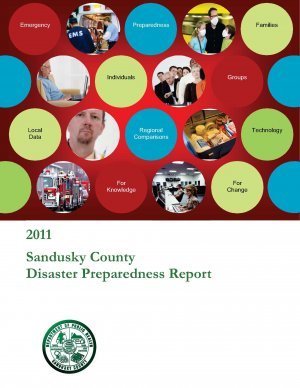 Preparing for Health Emergencies
Across the country, local, state and national government agencies have been working together for years to protect our citizens from any event that endangers the health of our community, including disease outbreaks, manmade disasters or natural disasters. Locally, the Sandusky County Health Department works with the Sandusky County Emergency Management Agency as well as law enforcement, local hospitals and other partners to be prepared for a health emergency or disaster and to ensure the safety of our residents.
Sandusky County Health Department staff regularly participates in emergency response training and exercises to ensure preparedness and a timely response for any event that threatens our residents.
How You Can Be Prepared
Individuals and families should also be prepared for health emergencies. If you live alone, getting the flu or a bad cold and having to stay in bed for a few days could be a health emergency if you are not prepared. Plan ahead, and make sure you have the necessary things including food and water easily available at home so that you could remain in bed and take care of yourself.
Being prepared also means you are aware of how diseases are spread. This way, you can take precautions to avoid spreading or getting germs. Maintain good health habits, and be sure to cover your sneeze with a tissue and dispose of it promptly. Wash your hands often. Cover your cough by coughing into your elbow or sleeve and not into your hands.
You can also help yourself and your family by preparing for a longer stay at home in the event of a natural disaster such as an ice storm or flood or even a pandemic flu outbreak. There are many good resources available online to help you prepare and offer checklists for what to put in your disaster kit.
Ready.gov is an easy online way to find out more about being prepared. The U.S. Department of Homeland Security has created this site to educate citizens about how to be prepared in case of a national emergency.
Ready.gov has this advice about making a preparedness kit. When preparing for a possible emergency situation, it's best to think first about the basics of survival: fresh water, food, clean air and warmth.
Recommended Items to Include in a Basic Emergency Supply Kit:
Water, one gallon of water per person per day for at least three days, for drinking and sanitation
Food, at least a three-day supply of non-perishable food
Battery-powered or hand crank radio and a NOAA Weather Radio with tone alert and extra batteries for both
Flashlight and extra batteries
First Aid Kit
Whistle to signal for help
Dust mask, to help filter contaminated air and plastic sheeting and duct tape to shelter-in-place
Moist towelettes, garbage bags and plastic ties for personal sanitation
Wrench or pliers to turn off utilities
Can opener for food (if kit contains canned food)
Local maps
Additional Items to Consider Adding to an Emergency Supply Kit:
Prescription medications and glasses
Infant formula and diapers
Pet food and extra water for your pet
Important family documents such as copies of insurance policies, identification and bank account records in a waterproof, portable container
Cash or traveler's checks and change
Emergency reference material such as a first aid book or information from www.ready.gov
Sleeping bag or warm blanket for each person. Consider additional bedding if you live in a cold-weather climate.
Complete change of clothing including a long sleeved shirt, long pants and sturdy shoes. Consider additional clothing if you live in a cold-weather climate.
Household chlorine bleach and medicine dropper – When diluted nine parts water to one part bleach, bleach can be used as a disinfectant. Or in an emergency, you can use it to treat water by using 16 drops of regular household liquid bleach per gallon of water. Do not use scented, color safe or bleaches with added cleaners.
Fire Extinguisher
Matches in a waterproof container
Feminine supplies and personal hygiene items
Mess kits, paper cups, plates and plastic utensils, paper towels
Paper and pencil
Books, games, puzzles or other activities for children
Sandusky County Emergency response plan-The SCHD welcomes comments from the public regarding our Emergency Operations Plan. Comments can be sent to dagee@sanduskycohd.org
Publications You Might Find Useful
Some files are large and may take a few moments to download. Thank you for your patience.
FEMA – Are you Ready?
American Red Cross materials dealing with terrorism and unexpected events:

Anthrax Q&A*
Your family disaster plan
Your family disaster supplies kit list
Su epuipo de suministros para la familia en caso de desastres*
Food and water in an emergency
Agua y alimentos en una emergencia*
Protecting Your Health Through Disease Monitoring
Sandusky County Health Department staff also work to protect your health through monitoring certain communicable diseases in our County, and alerting you if there is a potential outbreak.